I recently watched an anime, Fruits Basket. Some of you may have heard about it. I saw it on a lot of anime/manga related sites so I finally decided to watch it. I really loved it! Though the story was left open ended in the anime, it was a really sad and beautiful story. And since I loved it so much I decided to read the manga too.
Synopsis (from Goodreads):
Tohru Honda was an orphan, living with her grandfather, when one day fate kicked her out of the house and she was forced to take up residence in a tent in the forest. Little did she know that the land she was staying on belonged to the Sohma family, a mysterious clan. After stumbling upon the teenage squatter, the Sohmas invite Tohru to stay in their house in exchange for housework. Everything's going well until she discovers the Sohma family's greatest secret: when hugged by members of the opposite sex, they each turn into their Chinese Zodiac animal!
Sounds cool, right? It is! But what's amazing about this story is, that along with all the fun and humor, it holds great life lessons. For example, there is one chapter that teaches us to appreciate ourselves and not to envy others for what they have but to be thankful for what we have.
All the characters are so great and lovable! Tohru is so sweet and, while some people find her annoying, I think she's a great person and there should be people like her in the real world. I know there are, but they are very rare. She's so selfless and kind and positive. She's the kind of person who would make you feel better even if you were having the worst day of your life.
Shigure is such a funny character! I simply adore him! I didn't like Yuki much. It's not like I hate him or anything, but I don't like him either. I just don't feel anything towards him (no offense Prince Yuki fans!). I love Momiji! He's ssooo adorable!! And I love his name! Oh and Hatori and Kagura are also two of my favorite characters. Basically I like all the characters. :P
But there is one character I love to hate. And that is Akito. I don't care what he has gone through, he has no right to treat everyone like he's some God! According to the story that I know till now, he has scarred every member of the zodiac and everyone STILL say that it's not his fault. I would love to know how he is not to blame.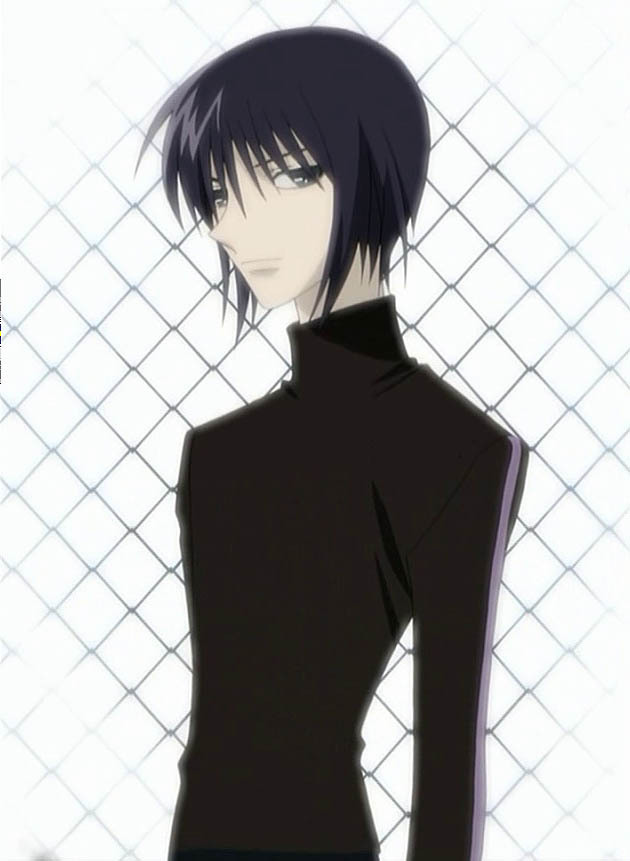 And then there's a character I love to love! Kyo
♥
♥
♥
♥ I already love cats! [I would have my own once I start living on my own. My parents won't let me have one right now :( ] And Kyo is the cat. (I know there is no cat in the Chinese zodiac but according to this story it was left out... and well it's a long story. So basically Kyo's the cat.) Plus he's hot. And I think his story is so sad. </3 And he doesn't pretend, like Yuki does. I hate people who pretend to be someone they're not just to be liked by others. I get that it's not Yuki's fault and the poor guy does it 'cause he has to. But I appreciate that Kyo doesn't. And even though he has a temper, and it goes out of hand sometimes, it's sweet that he tries to tone it down for Tohru.
I'm still on the third volume of the manga, but I'm really looking forward to the story ahead and to getting to see more of the zodiac animals and their stories. This is a really great manga, and I would highly recommend it to anyone who likes to read mangas with a life lesson (and a little bit of romance) plus humor and a great story line!
Oh and I almost forgot! I personally like the illustration of the anime better than that of the manga. I don't think it was done by the same person, but the characters in the anime look better. But that's just my opinion :)