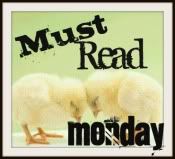 Must Read Monday is a weekly meme hosted by Jenna & Ashley at Fans of Fiction.
The goal of the Must Read Monday is to find share your love of great books with others in the hopes that they'll add a new title to their To Be Read list.
Your job is to create intrigue for other hoppers. What makes your book so swoon-worthy? What do you absolutely have to mention so they'll read it?
On your post, you'll make an acrostic puzzle (think of it as an overview/book blurb type of thing).
For specific ways to build your puzzle, click
here
, but pretty much any style of acrostic is welcome.
When you leave comments on other posts, be sure to mention whether you're adding that book to your TBR pile, and what part convinced you to do so.
It's all about powers of persuasion, people :) You might have to think a little, but channel that inner-creative goddess (or god).
Guess who's featured in this week's MRM...... Me!!! Yes, I am featured on this week's Must Read Monday and on my first try! How cool is that? If you want to read the poem that won me this click
here
. Thank you so much
Jenna & Ashley
! =D I love you guys!
OK so this week's category is: Contemporary/realistic fiction
My choice: Thirteen Reasons Why by Jay Asher
tApes explaining the
reasonS
None of them thought that
Hannah to take her life but
little did theY know that for her it was not that simple…….
Wow I'm getting the hang of this! And it's so much fun! =D
I think that Thirteen Reasons Why is a must read for everyone! It's such an awesome book! I didn't read it, I listened to the audiobook on my i-pod and it was so cool! It was like I was listening to the tapes myself!
I found a cool
glog
(graphical blog) about TRW. Check it out:
click here
.