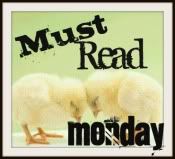 Must Read Monday is a weekly meme hosted by Jenna at Fans of Fiction. The idea is to create an acrostic poem about a book in the chosen category of the week.
This week's category: Romance
The
Heartbreakingly beautiful story about
Eternal love.
Choosing what's best for
Her. But how when the need is
Overpowering the right choice?
Is killing her right when she's already dead? Or
Choosing to let her live would be selfish? How should I
End this? I love her too much to let her go.........
OK so I actually wanted to choose A Walk To Remember by Nicholas Sparks but that's a pretty long name and I couldn't make an acrostic poem out of it. I'm pathetic at poetry you see =P So I chose my second favorite romantic novel: The Choice by Nicholas Sparks.
Honestly, I don't know how I did. This is my first time participating in this meme (which is pretty awesome and interesting!) and I haven't written an acrostic poem since, like, the fourth grade! So I have no idea if my poem is good or not. Please leave feedback!